Key insights from the manufacturing sector:
46% of leaders identified the supply chain as the top weakness they need to focus on over the next 12 months.

 

41% are simultaneously focusing on survival and transformation with 46%% focusing on transformation alone for the next 12 months.

 

40% see Integrity as the highest essential leadership behaviour

 

51% believe climate risks will increase in the next 5 years.
Every economic era presents its own set of challenges and requires a new and different leadership style. The HLB Survey of Business Leaders 2023 shows that while rain may fall equally, some leaders are better able to weather the storm in this current landscape or 'permacrisis'.  
We are currently facing a socio-economic climate resulting from Russian aggression against Ukraine triggering a series of major macroeconomic events: a global energy crisis, food shortages, climbing inflation, and interest rates. Business leaders were already apprehensive thanks to ongoing economic uncertainty, rising inflation, and regulatory change.  
The HLB global survey revealed that global businesses currently face eight major risks. These are issues that respondents are acutely concerned will negatively impact their companies in the year to come. Top of the list is the impact of inflation, a major concern for 82% of respondents. Meanwhile, 79% are concerned about economic uncertainty, 74% about geopolitical risks, 71% about rising resource costs, and 64% about rising interest rates, A lack of access to talent is still a major concern for 61% of respondents, while 60% are concerned about both exchange rate volatility and cybersecurity issues. 
Below we take a closer look at how the manufacturing sectors is impacted by the current business landscape.
Navigating the risk landscape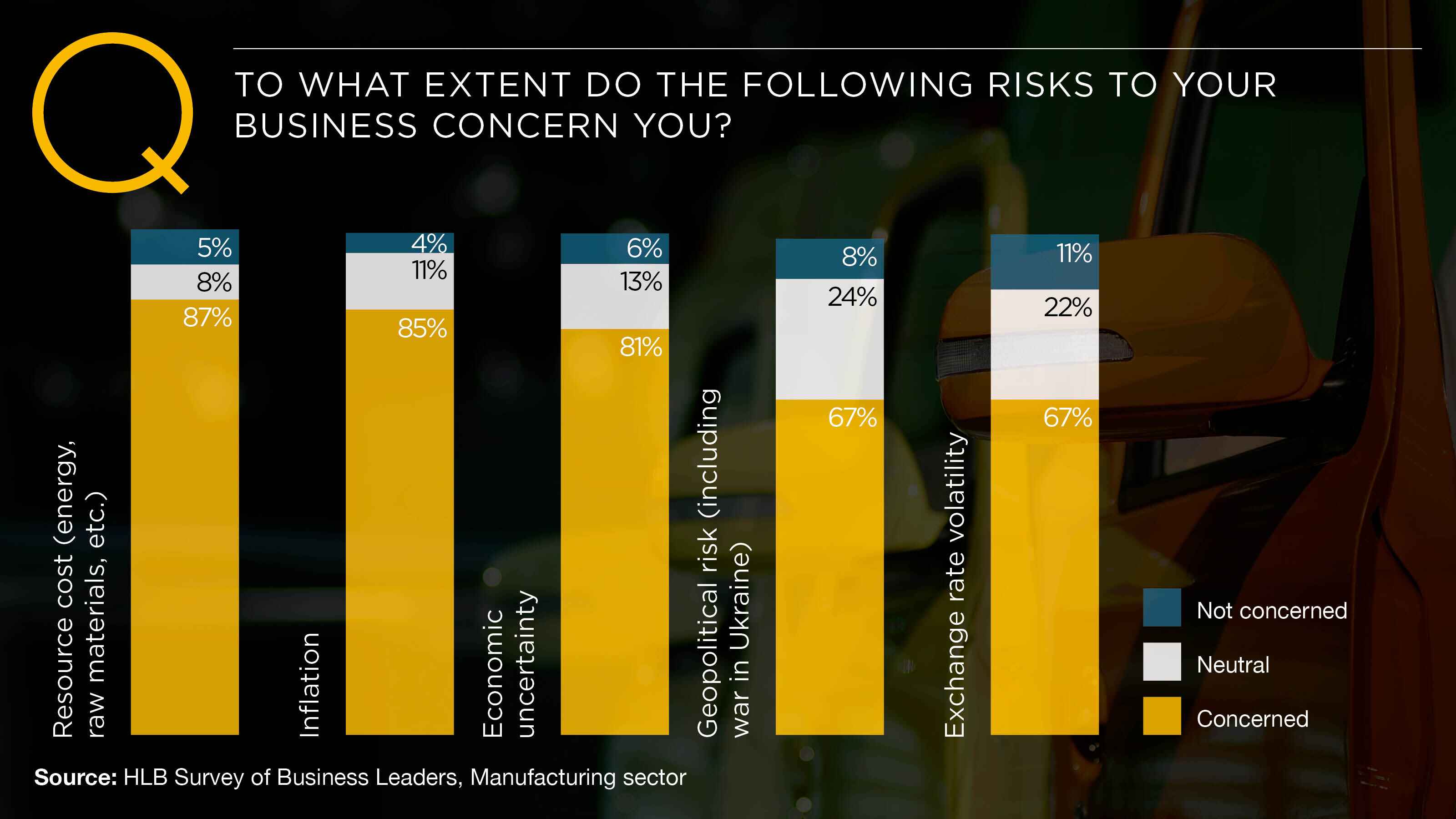 Economic expectations are greatly muted this year, with 49% of the manufacturing sector expecting global growth to decline. While the top concern for 87% of businesses is the ongoing cost of resources, 82% of the manufacturing sector is confident about their company's ability to grow revenue over the next 12 months. Meanwhile, 73% are planning to improve operational efficiency to remain profitable and grow. 
Looking ahead to the next five years, 46% of the manufacturing sector identified robotic process automation as the most important technology, closely followed by AI at 43%, and renewable energy technology at 42%. 
Overall, in the Survey of Business Leaders 2023, talent was selected by 35% of leaders as the highest weakness they need to focus on over the next 12 months. However, 46% of leaders in the manufacturing sector identified the supply chain as the top weakness.  
To minimise the ongoing impacts of disruption, 49% of manufacturing business leaders are applying 'just in time' and 'just in case' principles to supply chain management. At the same time, 60% believe the risk of resource cost will increase the most in five years time.
Focus on the now, or the future?
Looking ahead, business leaders need to simultaneously focus on business continuity and advancement. Many are targeting and creating the capacity to do both and well executing their plans. For example, businesses know they must 'balance the books', and at the same time, invest in innovation to grow. Many are juggling both the adoption of new technologies and the need to improve conditions for their workforce to ensure they can be more productive, instead of removing staff. 
A combination of short-term and long-term priorities to survive are the focus of 49% of the manufacturing sector, while 37% are focusing only on long-term priorities to thrive. 41% are simultaneously focusing on survival and transformation with 46% focusing on transformation alone for the next 12 months. 
Meanwhile, 42%% of manufacturing business leaders are focusing on operational efficiencies while simultaneously investing to innovate as they grow. Innovation has consistently proven to be a core concern for the manufacturing sector. If anyone had anticipated this slowing down as a result of uncertain times, they are mistaken. It's very much still front and centre of the manufacturing outlook.  
Regardless of where they are currently focusing efforts, it's clear that over half (53%) of the manufacturing sector have a succession plan for the next four to five years.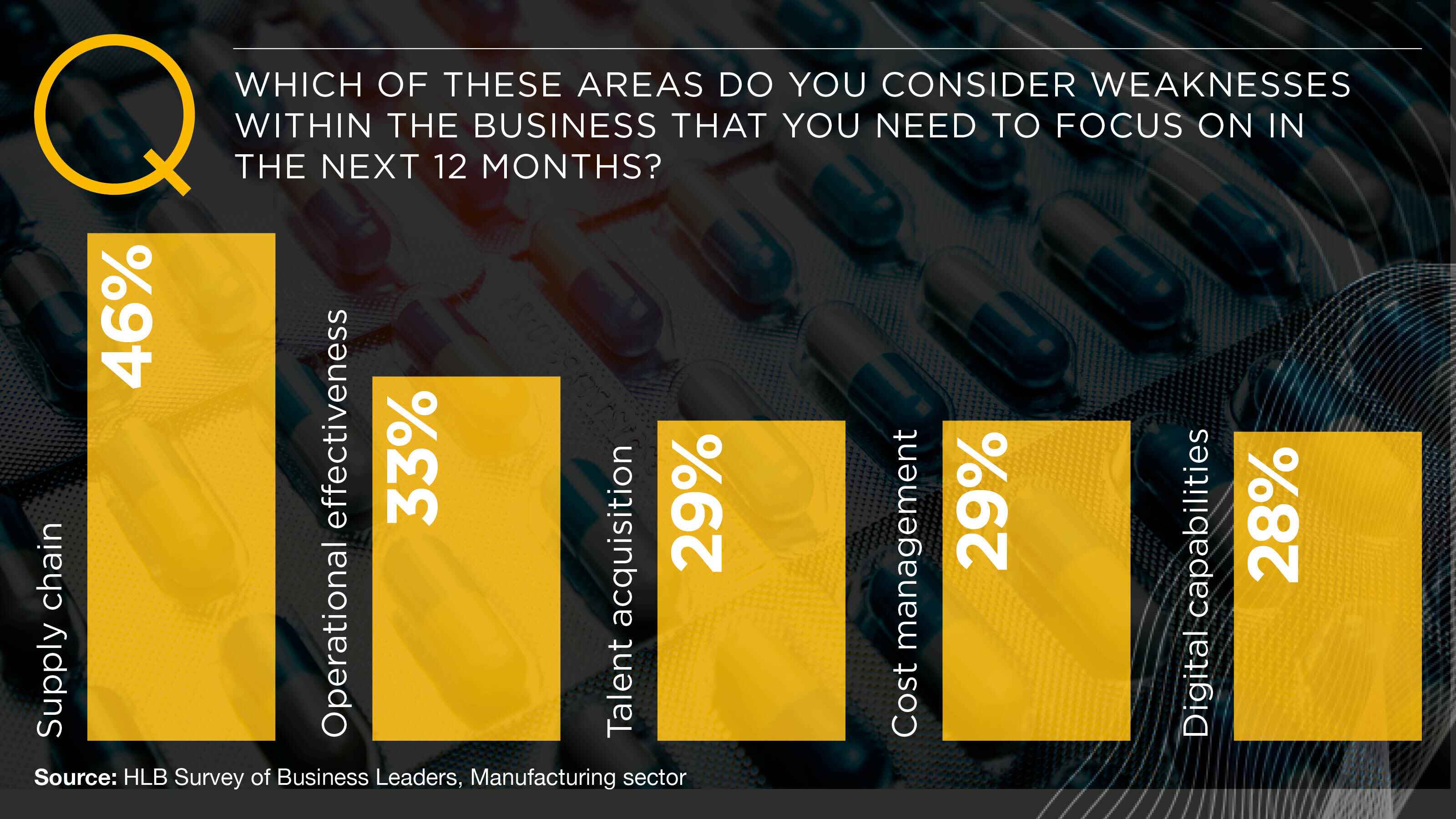 Good stewardship in a hyperconnected world

 
In our exploration of leadership in challenging times, we asked business leaders about critical leadership behaviours they will need to ride out the permacrisis. Courage, tenacity, and effective delegation all made the list of leadership behaviours valued in times of crisis. However, the top three were Flexibility, Integrity, and Accountability. This suggests the increasing importance of good stewardship in today's hyperconnected world. 
Integrity was seen as the highest essential leadership behaviour by 40% of the manufacturing sector. Maintaining high standards of integrity is always of great importance. 
Ensuring you have clarity surrounding your purpose and work and are effectively communicating that purpose to your customers, employees, and stakeholders is essential. Leaders are increasingly expected to have a clearly defined purpose and an accompanying set of values to meet the wider needs of their stakeholder expectations. This is critical in attracting the right people be it customer, employee, or shareholder. 
Increasingly, businesses are guided by missions which reach far beyond financial performance. in a geopolitical climate that has humanitarian as well as ecological concerns at the core of current affairs, it's perhaps unsurprising that business missions have expanded to incorporate social and political concerns in order to remain relevant, sympathetic, and empathetic. 72% of the manufacturing sector has clearly defined the purpose of their business and found ways to effectively communicate that purpose, both internally and externally. 
Flexibility (35%) was seen in the sector as the as the second highest-ranking essential behaviour for successful leadership in a crisis. Flexibility in strategy has to further translate to lower-level action in critical areas such as talent acquisition, digital capabilities improvement, and supply chain management. 
Coming in third was grit and tenacity, with 28% viewing these as essential qualities in a leader. Certainly, recent years have taught us that both tenacious persistence and a heavy dose of grit are required to remain steady in the face of global crises that strike at the very core of our social and economic stability. 
Sustainable 

tactics
These days, stakeholders demand change and want to be aligned with businesses who have a focus on more environmental, social, and governance (ESG) practices. 51% of the manufacturing sector believes climate risks will increase in the next five years. 36% agree they are making progress on the journey to becoming carbon neutral in five years. At the same time, 36% are focusing on improving business performance and ESG impacts.  
The manufacturing outlook is concerned, or very concerned about the risks posed by climate and the environment to their business, with 47% citing them as major issues that need to be tackled.  
ESG commitments often get a second priority amidst ongoing market turmoil. However, sustainability and profitability aren't mutually exclusive. On the contrary, wider commitments to 'green' practices, social welfare, and good governance can help leaders weather disruption and emerge stronger from it with a more sustainable (and profitable) business model. 
Over half of the manufacturing sector (54%) are rethinking their ESG responsibilities, while 37% are trying to meet wider stakeholder ESG expectations. This widening perspective reflects a general shift in public and corporate concerns for climate change and related issues. 
The CFO of one company in the manufacturing industry said they "want to be more aggressive on progress [towards ESG] as we believe this will give us a competitive advantage". Yet, our data also suggests that not all global leaders are as committed. 
40% of respondents in the sector only complete ESG actions required by regulators, rather than working on addressing the wider themes of sustainability as an opportunity for innovation and 8% do not have any established ESG goals at all. Despite (or perhaps because) of this, more than half (51%) plan to rethink their ESG responsibilities this year.
How HLB can help
There's no doubt that we face troubling times on several fronts this year.  2023 is already shaping up to be a rollercoaster when it comes to economic, social and environmental concerns. Financial instability was to be expected after last year, but perhaps less anticipated for this year. However, hope is on the horizon.  
If you need help navigating the storm for future prosperity or want to gain further information and support through our Advisory Services, please contact us today!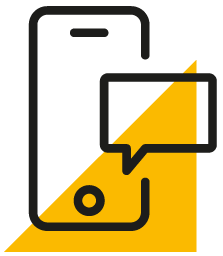 Get in touch
Whatever your question our team will point you in the right direction.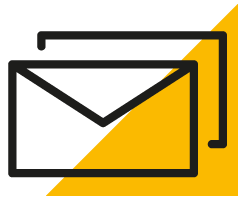 Sign up for HLB insights newsletters